The Best Lunch Spots in Anchorage, AK
Posted by Ryan Tollefsen on Tuesday, May 5, 2020 at 7:55 AM
By Ryan Tollefsen / May 5, 2020
Comment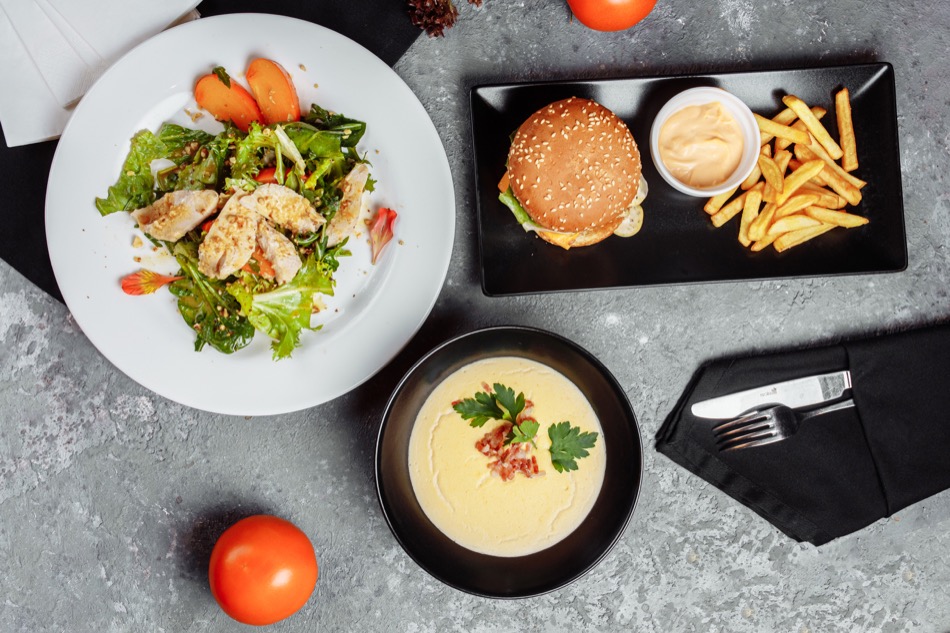 No matter what you're craving, Anchorage has a great variety of local restaurants. We hope you check out and enjoy these lunch spots in town.
Tommy's Burger Stop
Address: Tommy's Burger Stop, 1106 W 29th Pl, Anchorage, AK 99503
It's hard to say no to a good burger, and Tommy's Burger Stop takes that to heart. They're hard to miss from the street; it's painted at least four colors on the outside and is even more eclectic inside. They serve massive gourmet burgers made from 100% USDA beef from Australia with a healthy layer of Cajun seasoning and a perfect sear. They have classic American-style burgers, specialty burgers like the Aloha and Stella Bleu Burger, and a whole selection of po-boys and philly cheese steaks. For lighter fare, they serve Philly style or chicken salads in nearly as many varieties of the burgers. You can order a side of beer-battered onion rings or Cajun french fries while you wait, and don't forget to save room for their specialty desserts and floats.
Queen of Sheba Ethiopian Restaurant
Address: Queen of Sheba Ethiopian Restaurant, 2813 Dawson St, Anchorage, AK 99503
Queen of Sheba Ethiopian Restaurant is a great option if you have a mixed group of veggie and meat eaters, since they have a variety of vegetarian, beef, chicken, and lamb options. Queen of Sheba is owned and operated by husband-wife duo Dawit Ogbamichael and Samrawit Haile, and their opening in 2018 filled the Ethiopian food void in Anchorage. Despite a huge variety of international cuisines, Anchorage was missing an Ethiopian option until recently. So sit back, relax, and enjoy hearty plates of shirro (ground chick peas and jalapeños), yebeg alicha (a savory lamb dish seasoned with turmeric, ginger, and onions), or doro wot (a spicy barbecue stew with chicken drumsticks). Everything is served with injera, a sourdough flatbread, and the chef will keep injera coming until you run out of food on your plate to eat it with.
Pho Lena
Address: Pho Lena, 3311 Spenard Rd, Anchorage, AK 99503
Pho Lena has four locations in Anchorage spanning across the city (Spenard, Northway Mall, Downtown, and East), so you'll always be near one if you're feeling pho for lunch. They have dine-in, take-out, and delivery options, so it's a great option for a Saturday lunch on the go or getting it delivered to the office. Pho is a great light lunch option, especially when it's cold outside, and their broth is absolutely amazing. Besides pho, they have a variety of hot and cold dishes, soups, appetizers, vegetarian options, salads and rice dishes, so there's something for everyone. The menu isn't the exact same at all four locations, so make sure you check you're looking at the right menu before ordering.
Antonio's Greek Bakery and Café
Address: Antonio's Greek Bakery and Café, 3020 Minnesota Dr Suite 19A, Anchorage, AK 99517
Antonio's Greek Bakery and Café rounds out our list today because it's been an Anchorage staple since 2015. Antonio's offers a variety of authentic Greek cuisine and readily available baked goods. They have options for lighter and heartier dishes as well as a variety of traditionally vegetarian options. If you're in the mood for moussaka (an eggplant, potato, zucchini, and beef casserole), lemon chicken, or dolmades (stuffed cabbage rolls), Antonio's has your back. If you're looking for something quick to satisfy a sweet tooth, try the kourambiethes (butter cookies dusted with powdered sugar) or the baklava (a layered pastry flavored with honey, walnuts, and cinnamon).
No matter your craving or dietary preference, Anchorage has an option for you. While they're not internationally known for their food scene, Anchorage has a great variety of accessible local restaurants with great flavors from all around the globe.