Out'N About In Southcentral in August
Posted by Ryan Tollefsen on Tuesday, August 2, 2016 at 4:48 AM
By Ryan Tollefsen / August 2, 2016
Comment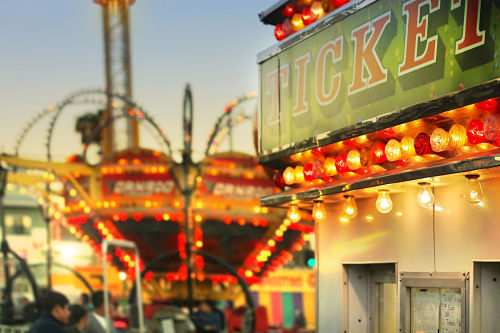 There is so much going on this month all over Southcentral.
August 6
Alaska 10K Classic
Lace up those running shoes; it's time for one of Alaska's oldest road-running races. The 10K Classic begins at in front of Atwood Hall at the Alaska Pacific University campus and follows an incredibly scenic route before heading back to the start. Can't manage 10 kilometers? Why not sign up for the 5K run? Either way, you'll be raising money for the Alaska Special Olympics and be able to participate in the post-race party. When you're ready to register, you'll find all the information you need at skinnyraven.com.
August 11
Bike Tour: Architecture of Anchorage
The best way to take a look at the incredible city of Anchorage may just be atop your trusty bicycle. At least it is when the Anchorage Museum and Bike Anchorage present a guided tour of the city's architecture. Grab your bike and head over to the Museum at 5:30 p.m. for this free event. After traveling through downtown and along the coastal trail, this tour finishes at 8 p.m. If you need more information, call the museum on (907) 929-9263.
August 13
Alyeska Mountain Run
For a real challenge this August, consider Alyeska Resort's 2,200 foot mountain run. This course is completely uphill, so perhaps run is the wrong term for a lot of participants. But, there is plenty of spirit in the walking and hiking groups. Entry is $30, and bib pickup begins at 8 a.m. You can register online at alyeskaresort.com to make sure you have a place in this final race of the Alaska Mountain Runners Grand Prix Series.
August 13
Wu-Tang Clan
Moose's Tooth Pub and Pizzeria is turning 20, and they're celebrating with the Wu-Tang Clan. That's hardly as unusual as you might think; the performing group has also had a vibrant 20-year history. Though the Wu-Tang lineup and collaborating artists are almost constantly changing, they always put on a good show. Doors open at 6 p.m. for this 21 and over concert, and you can order your tickets online at moosestooth.net.
August 18-21
2016 Alaska Salsa Festival
You may get a taste of the sauce known as salsa while enjoying your time at the Sheraton Anchorage Hotel and Spa, but this festival is all about dancing! There's a basic boot camp for beginners and plenty of performances and parties that are sure to get you moving to a Latin groove. Expect everything from salsa to the cha-cha and plenty in between. No partner needed, but dancing shoes are recommended for this event. Can't wait to register? Visit alaskasalsafestival.com for full details.
August 19-21
Anchorage Runfest
You might remember this weekend by its former name of Big Wild Life Runs. And, although the title has changed, you can expect the fun to continue. This weekend really is all about running, however far you can make it. Participate in anything from a 5K run to a full marathon and don't forget to stop by the Expo at the Dena'ina Center to see new gear and how technology is changing running. You can register for events and get all the info you need at anchoragerunfest.org.
August 20-21
Alyeska Blueberry Festival
How fast do you think you can get through an entire blueberry pie... without using your hands? If you think you can beat the pack, you'll want to enter the pie eating contest at this year's Blueberry Festival. Of course, this weekend is filled with a lot more than pie; live music, arts and craft booths, a beer and wine garden, and blueberry picking for the kids are also on the agenda. The festivities begin at 11 a.m. on both days and run until 8 p.m. Check out the full schedule of events at alyeskaresort.com.
August 25- September 5
Alaska State Fair
Can you believe this year's celebration marks the 80th Alaskan State Fair? Check out the comedic stylings of Cheech and Chong on August 29, or hang on for Pat Benatar on September 4; no matter when you head to the fairgrounds, you're certain to experience an incredible event. Vendor and exhibitor details are available online, and you can buy your tickets through the fair's website at alaskastatefair.org.
August 26
Spark!Nite at Anchorage Museum
This is Spark!Lab like you've never tasted it before. The Anchorage Museum pairs up with Zip Kombucha for one night to explore innovation and get a sample of Kombucha at the same time. This event is limited to guests aged 21 and older, but everyone that participates will have a chance to engage with hands-on activities. Get to the museum by 6 p.m. to participate. You'll find details and prices at anchoragemuseum.org.
August 26-28
Girdwood Fungus Fair
This event is a lot more interesting than it sounds. Sure, it's off beat, but this fair is totally dedicated to mushrooms (both good and bad). You'll have a chance to learn about local species, and sample unique 'shroom concoctions, including two specialty cocktails. Talks and walks round out this weekend's events. Though not held at the Alyeska Resort, you'll find more details on their website: alyeskaresort.com.