Restaurant Spotlight: The Red Chair Cafe
Posted by Ryan Tollefsen on Tuesday, July 14, 2015 at 9:17 AM
By Ryan Tollefsen / July 14, 2015
Comment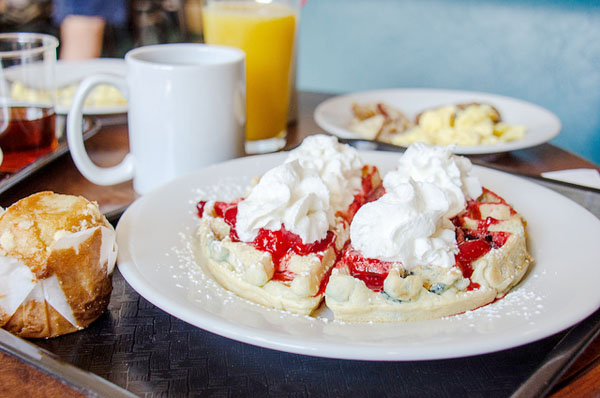 A place to sit, sip and eat, The Red Chair Cafe provides a great time for all. They provide plenty of regular events, along with art of the month and so much more. Here's what you can expect when you go to The Red Chair Cafe.
The Menu
There are plenty of choices for breakfast, lunch and dinner on the menu. Come in for a meal or just grab a beverage and a snack. Some of the most popular items include:
Traditional Eggs Benedict
Pulled Pork Benedict
Toasted Almond French Toast
Daily Quiche
The 'Tesla' Burger
Spaghetti Squash & Zucchini
Alaskan Rockfish Sandwich
Miso Ballad
House-Cured Steak Hoagie
RC Cuban
Grilled Fanciful BLT
The Executive Melt
Dry Aged Prime Grade Rib Eye
Nauti Crab Dinner
And More!
For dessert, you can choose from Crème Brulee or Tea & Orange Essence Infused Chocolate Mousse. They also have other desserts available in the restaurant, but not on the menu.
Beverages
The cafe serves plenty of excellent drinks to choose from. You can choose a typical soda or you can enjoy one of the specialty drinks. The cafe serves coffee, lattes, mochas, hot chocolate, house made chai, juice and much more.
The Bakery
Along with the restaurant, you will find a bakery full of great options at The Red Chair Cafe. From cookies to muffins to cupcakes, you will find all kinds of delicious goodies in the bakery.
Location and Hours
The Red Chair Cafe is found at 337 East 4th Avenue in Anchorage. They are open from 7am to 4pm on Sunday, Tuesday and Wednesday and from 7am to 9pm, Thursday through Saturday. They are closed on Mondays.
If you're looking for a relaxing place to enjoy a bit to eat or a delicious beverage, The Red Chair Cafe is a great choice.