Viewing Wildlife at Potter Marsh
Posted by Ryan Tollefsen on Friday, May 29, 2015 at 10:53 AM
By Ryan Tollefsen / May 29, 2015
Comment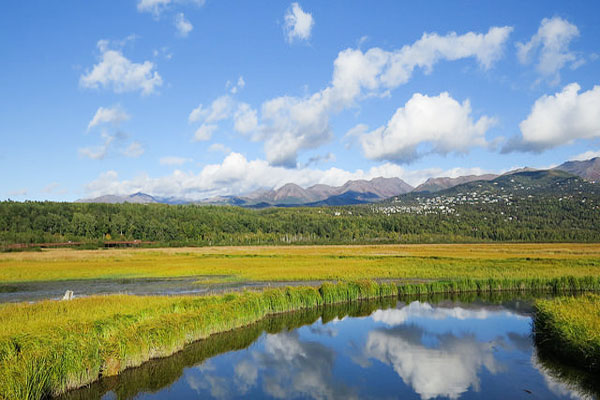 Potter Marsh is a fun place to go in Anchorage for wildlife viewings and some time spent in nature. It's located at the southern end of the Anchorage Coastal Wildlife Refuge offering the perfect getaway from the daily grind. If you love bird watching and wildlife viewing, this is definitely the place to go near you. Take Seward Highway and right before you enter the parking lot of Potter Marsh, you'll already have stunning views of Turnagain Arm.
Then from the parking lot you can take the wooden boardwalk that winds 1,550 feet from the parking lot to the marsh across water and sedges. Many birds hang out there which means you'll be immersed with nature and wildlife before you even park the car. If you're interested in the experience at Potter Marsh, here is a look at what you can expect.
During the Spring
If you've arrived between around late April, you'll see everything from Canadian geese to canvasback ducks, northern pintails, red-necked phalaropes and northern harriers. Horned and red-necked grebes also use this wetland and you should be able to spot eagles nest near the base of the bluff in the cottonwoods if you bring binoculars.
Since eagles can see about four times better than people, they'll likely be trying to stay out of sight since they can detect movements of even small animals from a mile away. They'll be scanning the area from overhead as they soar by.
During the Summer
You'll see these beautiful animals during the summer months but you'll also have more sightings of gulls, Arctic terns, and shorebirds like yellowlegs or trumpeter swans. Look at the water for slow movement with a v-shaped wake which may mean you're seeing the brown head of a muskrat that is swimming. Check out the Rabbit Creek underneath the boardwalk for spawning chinook, humpback salmon and coho.
You're likely to see moose at the marsh year round too! Be sure to avoid fishing, disturbing nesting and dress for the weather. You can enjoy this experience just 15 minutes south of downtown Anchorage.