What will you Discover at Lake Eklutna?
Posted by Ryan Tollefsen on Thursday, July 2, 2015 at 9:48 AM
By Ryan Tollefsen / July 2, 2015
Comment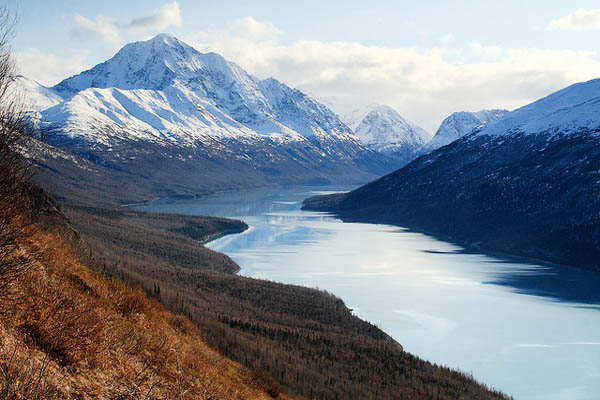 Have you been to Lake Eklutna yet? It's a beautiful area to hang out in Anchorage where you'll find recreation, beauty and the perfect place to relax. It features a multi-use trail, public-use cabins, beautiful views and overall adventure. It's located in Chugach State Park at Mile 115, Seward Highway and is open year-round for enjoying. If you want to check out a park featuring exciting trails, beautiful landscape and a place to get outdoors, here is a look at the excitement you can enjoy during a visit to Lake Eklutna.
What to Expect
The park features its biggest lake, Eklutna Lake, the city's Reservoir. The lake is a beautiful site with tons of trails wrapped around it offering scenic recreational opportunities for walking, biking and more. You can canoe or kayak in the lake and take advantage of winter sports during the snowy months with cross country skiing and walking on the lake. Along the west side of the lake you'll find cool views between trees with the trail going parallel to Eklutna river. At the end of the trail is a glacier.
Trails
Check out trail options including the 2.6 mile Twin Peaks Trail for hiking, a more difficult option. The Eklutna Lakeside Trail is almost 13 miles one way and it's an easy option that can be done by bike, biking, ATV, skiing or snowmobile. The Bold Ridge Trail featuring 4.2 miles of hiking trails with a moderately difficult climb. Be careful when climbing over rocks by the glacier as it's extremely dangerous. Watch
Along with the trails, you can enjoy public use cabins all year and backcountry camping areas. Try berry picking on the trails in the summer, view fall colors and enjoy water rentals like kayaks and canoes. The area is popular in the fall and ATVs are only allowed from April 1st through November 30th a few days per week. Fires are acceptable in fire rings and portable camp stoves are permitted. Bring pets on a leash on the campground as long as you clean up after them.
Bring $5 to park or purchase a $40 annual parking pass. The trip is worth it in Anchorage and you can even make a pit stop at the Native Russian Church and Cemetery on the way back home. Spend the day or camp all weekend at Lake Eklutna in Anchorage.